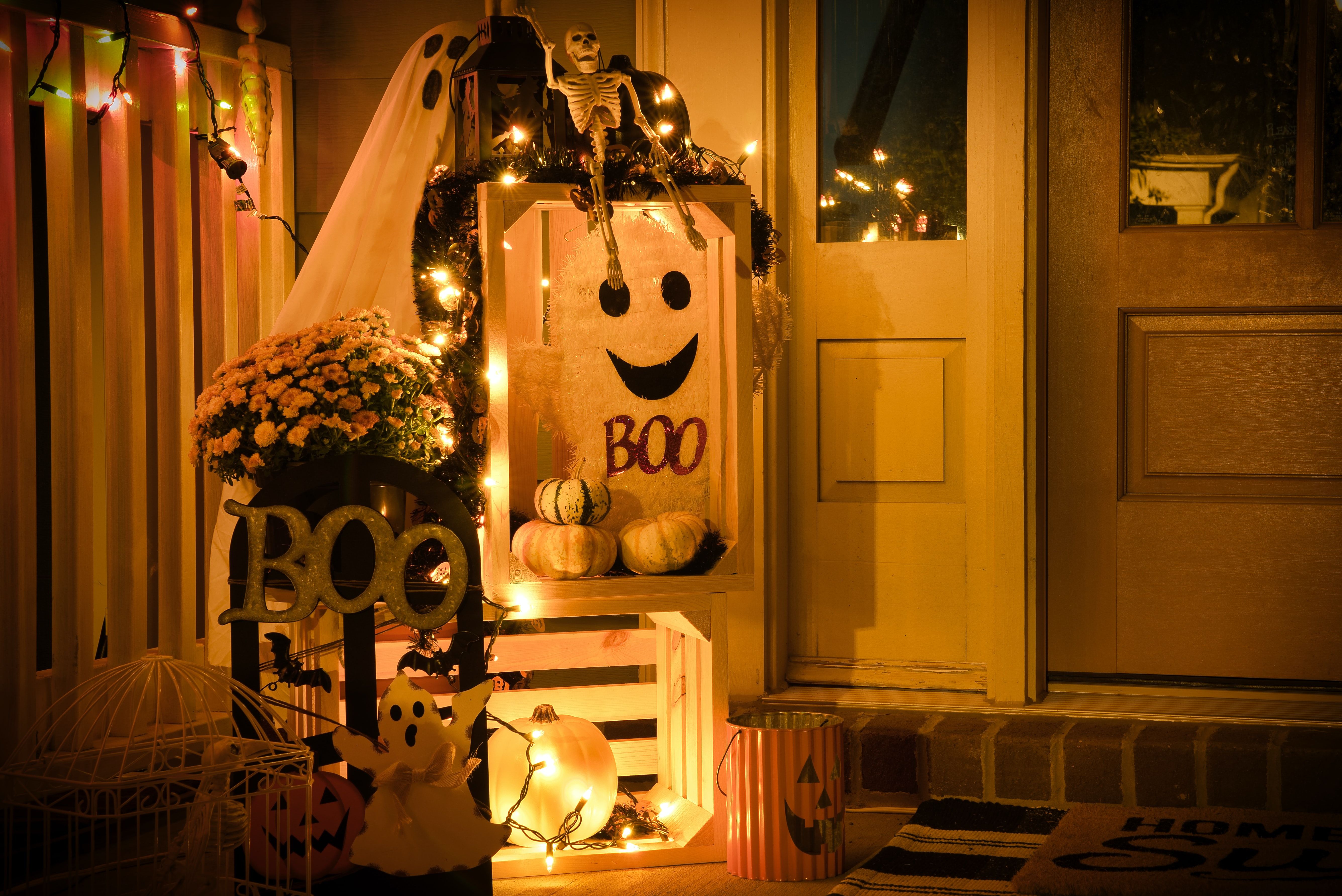 We made it to fall! It's time for cooler weather, college football (don't forget to play the Breda Shuffle while you cheer your team on!), and the beginning of holiday celebrations. Halloween has something for everyone: kids get excited to dress up and grown-ups are excited to let their inner child back out for a little while.
If you're planning to celebrate big this year, here are some tips for keeping your Halloween decorations spooky and fun without letting real-life spooky critters steal all your fun.

Mix Things Up
When it comes to picking out your Halloween decor, give yourself permission to let loose. Whether you like a rustic feel or a more modern and animated display, you can use some of nature's decorations along with items you discover in store Halloween sections. Even if you want a more homey feel to your yard or front porch, you can use a mixture of natural and artificial decor to capture the look you're aiming for without leaving your display (and home) susceptible to unwanted pests.

(In some metro Atlanta neighborhoods in Roswell, Alpharetta, Johns Creek, and Norcross, there are very specific rules issued by the Homeowners Association, and you'll need to square your plans with those.)

Make It To The Big Day
There's something reverently nostalgic about carving pumpkins. And why put in all that hard work to not show your spooky gourds off to the neighborhood? If you're worried about bugs or critters chowing down on your pumpkins or other natural decorations, there are steps you can take to protect them.

Lightly rub down the outside of your pumpkins with vinegar prior to carving them. The vinegar smell is a naturally effective deterrent of insects and some pests, like squirrels. Turn pests' senses against them by choosing protectants that offend insects' and critters' touch and smell, like hairspray on outdoor decor to leave an unpleasant feel to birds and sprinkling dog hair around your Halloween display to leave a protective scent that critters won't want to chance crossing with.

Ants and roaches tend to find their way into anything they see as food, so you may opt for keeping your carved pumpkin inside until the big day. You can still have your pumpkins front-and-center in your decor by placing them in a front-facing window. This will allow you to enjoy it for a couple of weeks leading up to Halloween and have it ready to go when trick-or-treaters arrive in full force.

It Pays to Pack It Up Well
Packing up the decorations is never a fun chore, but if you do it well, next year's celebration will be just as sweet. As you take down your outdoor decorations, be sure to thoroughly check to make sure they haven't become holiday homes to sneaky guests. That spooky spiderweb fabric might have actually attracted spiders, and hay bales or stuffed decorations like scarecrows can quickly become a rat motel for the winter. Pumpkins should be thrown away well before they begin to rot and become a homing beacon for insects.

Once you've confirmed you aren't bringing outside pests into your attic or basement, protect your decorations with sealed containers or wrappings. Cardboard boxes may be cheap and easy to find, but they don't offer much protection against invasive critters like squirrels, rats, moths, and other insects. (Roaches, for example, love to eat the glue that holds boxes together.)

Plastic storage tubs are best for keeping your decor free of pests and an added bonus: you'll be able to quickly find your decorations next year, no digging around in the attic or basement again! There are still some persistent pests that will do everything they can to call your storage tubs their winter home, like mice, so look for any signs of chewing on the outside of the tubs before you haul them back out next year.
From all of us at Breda Pest Management, we hope you have a spooky and safe Halloween this year. If you do run into any unwanted pests trying to crash your celebration, we are here to help. Schedule a visit online or call us at 770-466-6700. Our team will have you back to your spooky self in no time!