Lawn Mole Removal in Atlanta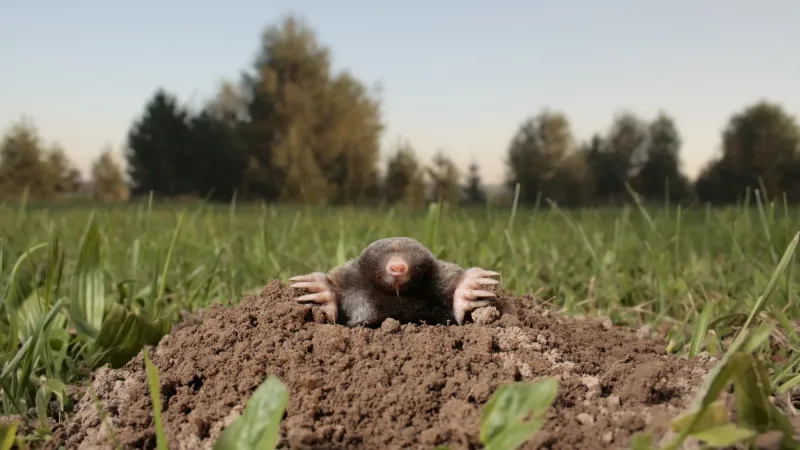 Pest Control for Moles
Moles are subterranean mammals that cause damage to lawns, gardens, and paved or brick pathways. They build complex tunnel systems, often large enough to extend far outside your lawn, potentially causing damage to neighboring lots as well. Thanks to their elusiveness, mole removal can be a very difficult task. Breda Pest Management is an industry leader in mole control for Atlanta homeowners. You can trust us to deploy the most effective and efficient mole removal service in Georgia.
Schedule a Consultation
How to Remove Moles from Your Property
Moles are some of the most secretive pests you could have. As burrowing rodents, moles spend the vast majority of their time underground and very rarely show themselves. The best way to tell if you have moles burrowing beneath your lawn or garden is to (a) look for raised ground caused by shallow tunneling or (b) find an entrance to their tunnel.

Most Effective Mole Traps
The most effective mole trapping method is to use spring-loaded prong or choker-loop traps along the mole's tunnel or above a tunnel entrance. When a mole pushes up against the spring-loaded trap, the trap is activated.
There are all sorts of different traps and variations in trapping methods, but the most effective solution is to hire experienced mole trapping professionals. DIY solutions like chemicals, poisons, and online home remedies do not work and only leave more time for the moles to become a bigger, more expensive problem.
Frequently Asked Questions
What does a mole burrow look like?
The volcano-shaped mounds at the entrance of mole burrows are often confused with gopher mounds. The difference is gopher mounds have plugged entrances and tend to be crescent-shaped, while mole mounds are more circular and the entrance tends to be open.

What is the fastest way to get rid of moles in your yard?
Hiring professional mole trappers is always the fastest way to rid your yard of moles. Don't waste your time trying ineffective DIY solutions while the problem gets worse.
How much does it cost for mole control?
The national average cost for professional mole extermination is between $170 - $500, depending on the scale of the infestation.
Lawn Mole Removal near Atlanta, Georgia
Moles (sometimes colloquially called yard moles or garden moles) are a unique pest control challenge. Many clients come to us after trying home solutions regarding mole trapping and extermination. Often there's no substitute for an experienced pest control service. Contact us today.
| | | |
| --- | --- | --- |
| Woodstock | Dunwoody | Norcross |
| Walton County | Smyrna | Doraville |
| Duluth | Buford | Loganville |
| Cumming | Dekalb County | Decatur |
| Sugar Hill | Lawrenceville | Tucker |
| Marietta | Johns Creek | Chamblee |
| Roswell | Suwanee | Canton |
| Atlanta | Gwinnett County | Snellville |
| Milton | Cobb County | Sandy Springs |
| Fulton County | | |