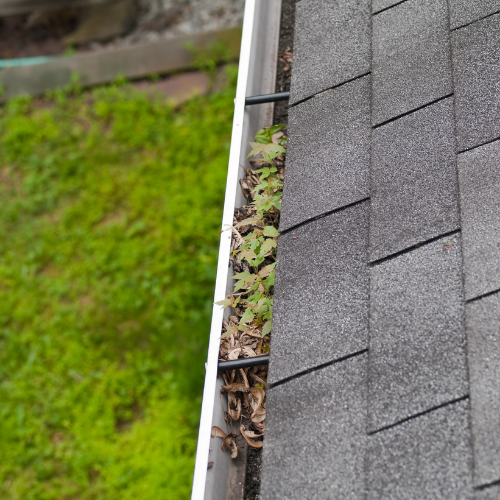 We're just starting to see mosquitoes return to our yards, and as the weather gets warmer around Atlanta, they'll soon be back in swarms. Already, many of us are craving the outside but dreading the bug bites that always seem to come along with any time outdoors. And for good reason - we are at a monthly high activity level on the Pest Index, with all the recent rain, heat, and humidity! Luckily, there are a few simple things you can do as a homeowner to address the bugs now before they become a full-blown invasion.
The first thing you'll want to do to prevent mosquitoes is to clean out the gutters. Clogged downspouts cause standing water to sit in your gutters. This water, along with decaying leaves sitting in it, not only is a great place for mosquitoes to lay their eggs, but also provides a perfect environment for their larvae to develop.

You should also take a look around your yard to remove standing water where mosquitoes breed. Some common places for this are downspout trays, kids'/dogs' toys, and the sandbox cover. Some plants are also culprits. Magnolia leaves, for example, are large enough and hold enough water for mosquitoes to reproduce. Certain oak trees that have their roots exposed have crevices that hold enough water. Anywhere water pools up around the yard, if you get rid of those, you'll cut off their life cycle.
But it only takes a bottle cap of water to start a swarm, so you'll want to pair these steps with mosquito treatments to really prevent invasions. Starting treatments in late March or first of April is ideal. Many homeowners wait until Memorial Day weekend to start mosquito treatments, but by then the population has increased. It's so much easier to start mosquito treatments in early Spring to enjoy your yard all Spring and Summer.
Listen Mondays and Fridays for Dave's Home To Do List, powered by Breda Pest Management. And you can always find this and other helpful tips for your home by just visiting TheHomeToDoList.com.
If you find yourself needing pest management solutions, don't hesitate to contact us today!