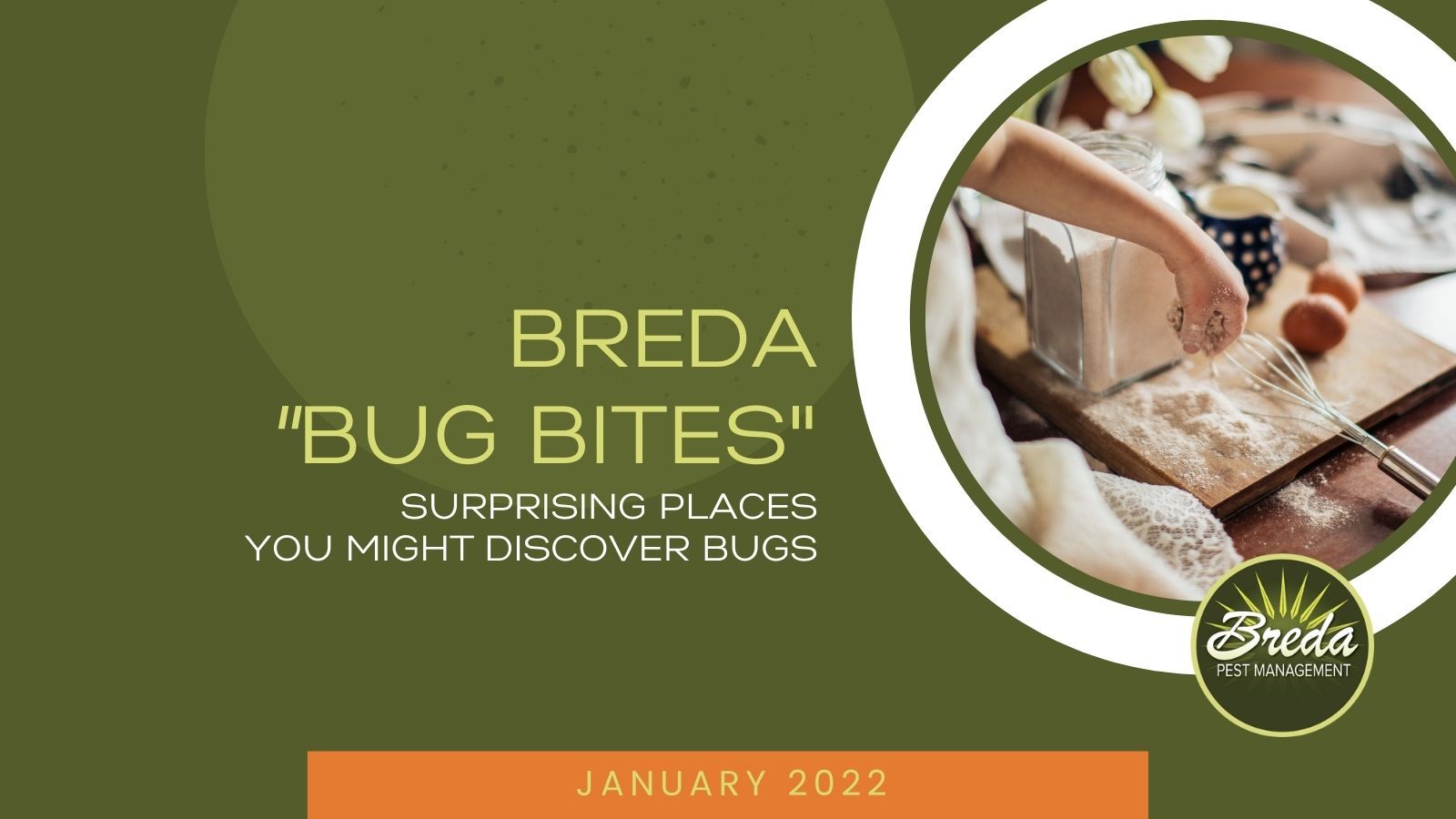 Different areas of your home to check for bugs and pests
We're through the "fun" part of winter with the passing of the holidays and now we all hunker down until spring. While you might think you get a break from finding a pest issue in your home, there could be some pending pest infestations laying in wait in your home right now. Keep reading to learn about some surprising places pests and bugs may be hiding in your home!
Did you know that there are "stored food" pests?
Is nothing safe from pests? Our opinion: nope! Stored food pests are drawn to whole grains and processed foods, which makes your containers of flour, oats, and snacks look incredibly appealing. Investing in air-tight storage containers or glass jars with sealing lids is one of the best precautions you can take against a stored product pest infestation. What are the signs of an infestation? If you notice moths, tiny beetles, or caterpillars in your kitchen, chances are high that you need to start inspecting all dry goods in your kitchen and pantry.
The easiest way to get rid of stored product pests is to throw away the items you suspect might be infested. It's completely understandable that that might not be an appealing option to you, so there are other steps you can take to remove pests from your dry goods and food and give you a chance at getting to keep them. There are some great tips in this article on removing an infestation from stored products.
Did you know your outdoor potted plants could be bringing in bugs if you bring the plants indoors?
In Georgia, we get to enjoy fairly temperate weather year-round, which allows for a wide variety of plants to be grown by homeowners and farmers. However, we do experience more severe weather at times, which necessitates bringing more sensitive plants indoors temporarily. While you're keeping a close eye on your plant's reaction to its surroundings, also be on the lookout for signs of hitchhiking pests.
If you want to be proactive (or spot some insects attached to your plant), spray your plants with insecticidal soap. There are some effective and safe store-bought options like this one, but insecticidal soap is an easy DIY solution to mix up, too. Combine one teaspoon of mild liquid soap (castile soap is a great choice) per one liter of water in a spray bottle. Do not use any soaps that contain degreasers or detergents, as these formulas can damage (or even kill) sensitive plants.
Did you know that termites are active non-stop, year round?
Think termites are only a warm weather problem? Unfortunately, you're wrong. Termites feast year round and are constantly in motion. When temperatures get cooler, termites will head deeper into the ground to help their chances of survival. Since termites are looking for warmth, you may wake up one winter morning and discover tell-tale signs of a termite problem in your home. While there are some DIY products and tricks you can try to get rid of a termite infestation, your best bet would be to reach out to professionals. BREDA Pest Management uses industry-leading technology to locate and eradicate termites from your property, and with BREDA's termite guarantee, you never have to worry with termites and the extensive damage they cause ever again.


If you find yourself needing pest control and want it handled thoroughly, don't hesitate to give us a call. The BREDA Guarantee promises to fix your pest problem and keep it fixed—no matter the circumstances. Schedule a consultation online or give us a call at 770-466-6700.