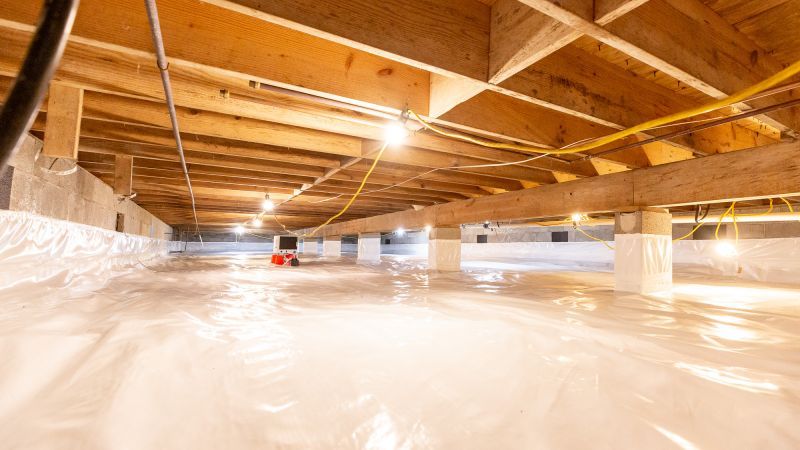 Get rid of the bugs in your crawl space—for good
Homes in Georgia with crawl spaces are not uncommon. Crawl spaces can offer a sheltered yet easily accessible place for your home's HVAC system, can add a layer of protection to your home if you live in a potential flood zone, and can often be bonus storage space. However, because of a crawl space's location and the typical Georgia climate, this area of your home can be a magnet to a few undesirable and potentially damaging bugs.
If you live in a home with a crawl space and suspect you may have invading bugs, there is a solution that will not only protect your crawl space against pest pressure but also increase the value of your home.
Roaches, Spiders, and Termites—Oh My!
Crawl spaces are already a little on the creepy side of things, but when you add in the potential for bugs to be crawling around, it's enough to make you never want to go into your crawl space again. Unfortunately, if you have bugs in your crawl space that are left unaddressed, they will inevitably find their way up into your home.
Which bugs are usually found in crawl spaces? Because of the potential for moisture build-up and higher humidity in crawl spaces, you're most likely to find roaches, spiders, and termites in your home's crawl space. In addition to these bugs, excess moisture can also attract thirsty rodents like mice and rats.

How to Protect Your Crawl Space
In order to keep your crawl space pest-free, you need to turn it into more of a controlled environment. Encapsulation of your crawl space is an effective method of removing excess humidity, which will in turn remove any moisture under your home. Many homes with a crawl space have their HVAC unit situated under the home, which means you likely have crawl space vents. These vents were initially designed to increase airflow and therefore reduce mold growth. Unfortunately, these vents are simply inviting high humidity into crawl spaces which then causes issues like condensation dripping off the air ducts trying to cool your house. This is not energy efficient and provides one key ingredient bugs and critters need for survival.
So how does crawl space encapsulation fix this issue? At BREDA Pest Management, our first step in the encapsulation process is to remove any old plastic on the ground and discard the existing insulation. Once this is completed, BREDA installs the wall curtain followed by installation of a floor liner. All crawl space vents are sealed from the inside and a commercial-grade dehumidifier is installed. As with all services BREDA provides, our crawl space encapsulation service is covered under the BREDA Warranty.
By sealing off your crawl space and taking measures to improve air quality for your HVAC to circulate, investing in crawl space encapsulation can keep your home more pest-free, improve your home's value, and help keep your HVAC system running smoothly. From now until September 30, 2021, our Facebook and Instagram followers have a special offer they can apply when using our encapsulation service. Make sure you're following us to take advantage of the offer!
If you find yourself needing pest control and want it handled thoroughly, don't hesitate to give us a call. The BREDA Guarantee promises to fix your pest problem and keep it fixed—no matter the circumstances. Schedule a consultation online or give us a call at 770-466-6700.