What You Need To Know
We offer many pest exterminator services including Ants. Although they are frustrating when they invade your home or yard, ants do help the environment by acting as nature's decomposers, feeding on organic waste, insects, or dead animals. They are social insects, which means they live in large colonies or groups and depending on the species, these colonies can consist of millions of ants. Ant control can be tricky, but it all comes down to proper identification followed by proven treatment measures for each specific type of ant.
Types of Ants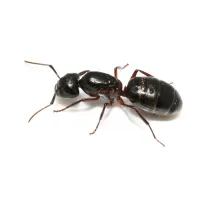 Size: 0.3-1"
One of the largest ants, black in color. Found mainly in forested and nearby areas. Prefer high moisture content areas and wood. Unlike termites, they only chew wood (they do not digest it) as they hollow out their galleries. Keep an eye out for leaks or pooling water in or around wood trim on the home.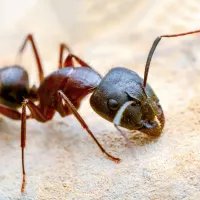 Size: .08-.25"
Copper Brown head, thorax with a darker abdomen. Highly aggressive stinging species. Build a nest in the soil, typically near higher moisture areas, such as river/creek/lake banks, watered lawns, side of roads. Keep an eye out for rounded mounds of soil as these may indicate a nest right below the surface.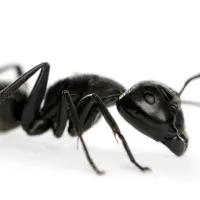 Size: Less than ⅛"
Dark Brown to Black in color. Also commonly referred to as sugar, stink and coconut ants. Develop large colonies numbering in the thousands with multiple queens. Often do not feed on baits, so direct treatment of the colony is the best course of action. Typically nest outdoors under ground cover, mulch, other landscaping materials, however, they will nest inside wall voids as well. Keep landscape areas neat, rotate mulch/pine straw annually to keep their natural nesting grounds clear.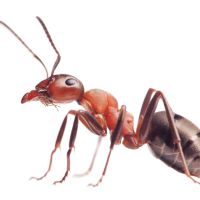 Size: ⅛"
Reddish-brown in color. Also referred to as Rasberry Crazy Ant. One of the largest colony ants numbering in the hundreds of thousands with multiple queens. They do not build a central nest or mound; instead, they form "loose" foraging trails through loose landscape material and ground debris. They move in erratic patterns, not in uniform lines, hence the name. Keep landscape areas neat, rotate mulch/pine straw annually to keep their natural nesting grounds clear.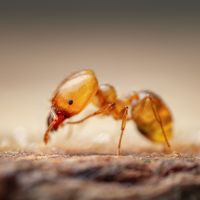 Size: 1/16"
Very small, light-yellow to red in color (almost translucent) with black markings on the abdomen. Sometimes referred to as sugar ants. Feed mainly on sweets, greasy and fatty foods. Colony size can vary from a single queen with a few hundred workers to large colonies containing multiple queens and thousands of workers. Do have stingers but do not sting humans. Keep surfaces dry and clean of sugary foods; fats and grease remains should be kept wiped clean.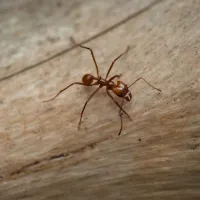 Size: 0.10-0.12"
Light to dark brown in color. Invasive species are known to displace native ants. Colonies are large in size, typically consisting of multiple queens and hundreds of thousands of workers. Prefer moist areas and loose debris/landscaping to forge in. In cooler months they will look to enter structures through cracks and crevices. Feed mouth to mouth so baits work well in treatment zones. Prefer sweet and fatty foods, so keep surfaces clean and dry from food debris to limit infestation. Also, cracks and crevices may need repair or resealing to limit access.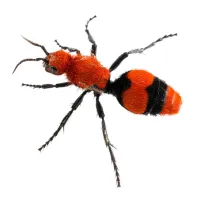 Size: ⅛-⅞"
Black with bands of either bright red, orange or yellow colorations. Commonly referred to as a Cow Killer Ant. Technically not an ant at all, instead, it belongs to the wingless-wasp family. Females dig into ground-nesting bee and wasp nest where they lay their eggs. The larvae will develop and feed on the host eggs. Females have a potent sting; they will be seen walking in bare, typically sandy areas during the warmer months. Males do not have a stinger but do have wings and are typically seen around flowers. These "ants" are solitary and do not live in colonies; best practice is to simply avoid contact.
Quick Fact
Ants can carry between 10-50 times their body weight depending on the variety!
Ant Exterminator Services near Atlanta, Georgia
The most effective ant control solution near Atlanta, Georgia, is to use an ant treatment program from a reputable pest control company. Contact us today.
| | | |
| --- | --- | --- |
| Doraville | Marietta | Decatur |
| Snellville | Buford | Milton |
| Smyrna | Chamblee | Roswell |
| Duluth | Sugar Hill | Dunwoody |
| Atlanta | Walton County | Tucker |
| Woodstock | Loganville | Sandy Springs |
| Cumming | Lawrenceville | Canton |
| Cobb County | Suwanee | Norcross |
| Johns Creek | Gwinnett County | Dekalb County |
| Fulton County | | |
Ant Control Reviews on Google

"Our home has been treated by Breda for several years, ever since our discovery of carpenter ants. They responded immediately and solved that problem and have been working for us ever since. They are prompt, courteous, and professional. Always! Almost never any issue, but the few times something new showed up, they were once again there to help us. They are our friends in the pest control business."
"Our Breda man is Tom. When he leaves our home, he leaves no bugs behind. After suffering for years due to uncontrollable spiders and ants, Tom and Breda improved our quality of life and we love our home all the more. C&L, Woodstock"
"We are very happy with the service provided by Sean, our Breda Pest Management professional. He always arrives on time, is polite, professional, and consistently lets us know if he's noticing anything inside the house and outside on our property. We first called Breda a couple of years ago when we were being invaded by ants, thankfully Sean completely wiped them out and we haven't seen a single ant in the house since then."

Find more of our reviews on Google. We have a 4.8-star rating and 855 reviews.