Thanks for printing! Don't forget to come back to Breda Pest Management for fresh articles!
Ticks
Ticks are the largest and most conspicuous member of the order Acarina, and are practically the only members of the order which can be identified without the aid of a microscope. They differ from mites in a number of external body features. The most easily seen features are the spiracular plates which surround the external openings of the respiratory system.
All ticks feed exclusively on the blood of vertebrates. They have four stages in their life cycles: egg, larvae, nymph, and adult. Mating usually occurs while the adult ticks are on the body of the host animal. The female then drops to the ground and deposits her eggs. Adult female hard ticks feed only once and lay one large batch of eggs, often containing as many as 10,000 or more. Adult female soft ticks will feed several times and lay 20 to 50 eggs after each meal. Depending on conditions and temperature, the larvae will hatch from the eggs in two weeks to several months.
The first immature stage larvae have only six legs. These larvae must find and attach themselves to a host in order to get a blood meal. After obtaining this blood meal they usually drop to the ground, shed their skin, and emerge as 8-legged nymphs. Like the larvae, the nymph will find a host, have a blood meal, then molt and become an adult.
Adult ticks may require several days of feeding before they are able to reproduce. Male hard ticks usually die soon after mating, and females die soon after laying their eggs. Most ticks spend the bulk of their life on or near the ground, waiting for a suitable host animal. Since they cannot run, hop, fly, or move quickly, ticks must climb onto an appropriate object such as tall grass or weeks, or up onto fences and siding of buildings, to then wait for a suitable host to pass by.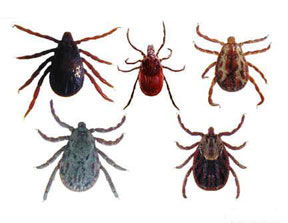 Mites: Acarina